Hotel "Vladimir"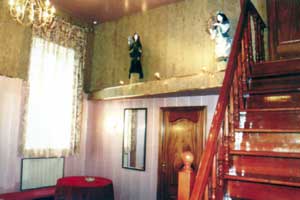 It is situated in the historical center of the city, close to the most famous historical monuments. The guests rooms are thoughtfully equipped with amenities for your comfort and convenience. The well-trained staff is attentive and professionally serves all guests' needs.
To suit guests varied needs the hotel offers:
Internet Cafe
Lobby ATM
Currency exchange
Free parking
Car service
Hairdresser's and manicure
Food store
Gift shop
Restaurant
Cafe
Karaoke Bar
Casino
Sauna
Room Amenities
Telephone/Alarm Clock
Color TV/cable TV, international programs
Refrigerator
Bathtub/Shower
Daily Maid Service
Wake-up Service
Services
Also available such services as:
Individual and Group Excursions to Suzdal, Bogolyubovo and other ancient Russian places
Special Entertaining Programs ( according to Russian traditional holidays )
Horse-Carriage Riding
Restaurant "Vladimir"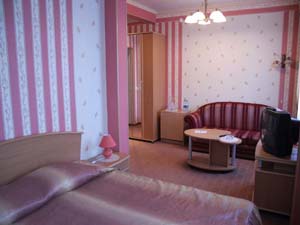 It has a dinning room & 2 banquet rooms. The cooks and the confectioner of the restaurant possess the highest professional award in culinary of Russia. So the guests will enjoy their mastership. There is also dance show and live music in the evening. The guests can spend their time in Karaoke bar.
Contacts
Address: Bolshaya Moskovskaya St., 74, Vladimir Phone/fax: 7(4922) 32-72-01
E-mail: tour@gtk.elcom.ru
Booking and Reservation : 7(4922) 32-72-39, 7(4922) 32-44-47
Manager: 7(4922) 32-73-52
Restaurant : 7 4922 327352
назад